A Guide to Antique Engagement Rings
Antique engagement rings are ideal for brides-to-be looking for an exquisitely crafted ring that is truly one of a kind.
4 Reasons Why You Should Choose an Antique Engagement Ring
For many brides, the history that comes with antique styles adds unparalleled value and romance to their engagement ring.
Quality workmanship is another key characteristic of antique styles. These rings have stood the test of time because the original jeweller would have created the piece by hand, sweating over every single element.
They are unique because they often feature beautiful and rare elements that have fallen out of
use over the centuries due to technological advancements.
Eco-conscious brides see previously "loved" rings as a far more environmentally-friendly
option.
5 Tips for Buying Antique Engagement Rings
Do your research beforehand on reputable dealers in your area. One way of checking this is to see if the dealer is a member of a recognized trade association.
If buying an antique ring online, try to choose a brand that has a brick-and-mortar location too, so you can see the ring in person and try it on.
Keep in mind that in the past people were generally smaller and as such had slimmer hands, therefore it is quite likely that you will need to resize the ring if it is over 100 years old. Before making your purchase, check if it is possible to resize the ring and get a quote.
Try to avoid purchasing a ring featuring a fragile stone e.g. soft opals or emeralds. Be sure to ask for your dealer's expert opinion on the most durable stones.
Keep your mind open, remember when buying a pre-loved piece that you may not be able to get the exact specifications you want. For example, the majority of antique rings are adorned with coloured gemstones rather than diamonds.

However, working closely with the right dealer will certainly make it easier to find the perfect style for you!
Popular Antique Styles
Georgian Era Engagement Rings, 1714 – 1837
Extremely rare and incredibly valuable, engagement rings from the Georgian (or Regency) period are coveted among antique jewellery collectors. Unfortunately, little jewellery remains from this time as many period jewellers were in the habit of melting down pieces to create new, trendy ones.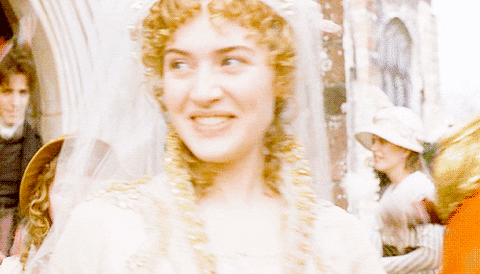 via GIPHY
Jane Austen fans may enjoy a Georgian-style ring.
Georgian engagement rings tend to draw inspiration from the natural world. They typically feature ornate designs of butterflies, flowers and birds delicately rendered through inscription, stone placement, filigree and beading. Georgian jewellers favoured cuts that maximized stone brilliance, such as the still ubiquitous rose cut and the lesser-known old mine cut. Closed back settings are a distinctly Georgian feature. This involved mounting gemstones in a way that enclosed their bottom half. Foil was usually placed underneath the stone to reflect light and adjust a gemstone's colouring.
Edwardian Era Engagement Rings, 1901 to 1914
Characterised by light and intricate designs, rings from the Edwardian period are prized for their airy elegance.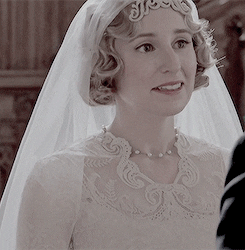 via GIPHY
If you like the Downton Abbey style, then an Edwardian ring may be perfect for you!
During this time, white was all the rage with brides preferring to adorn their rings with diamonds and white metals such as white gold and platinum. Platinum rings in particular surged in popularity due to their hardness and bright sheen.

Many rings from this era boast a stunning lace-like or filigree affect which was achieved through milgraining. This involved melting down small amounts of platinum on the band to form tiny beads around the border of a ring for a delicate, detailed effect.
Victorian Era Engagement Rings, 1837 – 1901
Favoured for their elaborate designs, artisanal craftsmanship and striking colours, Victorian engagement rings are a popular choice for period jewellery enthusiasts. Queen Victoria herself was a major influence on ring design and the vibrant snake ring (symbolising wisdom, loyalty and commitment) gifted to her by Prince Albert set off a serpent ring craze across Britain.
via GIPHY
If you like the Downton Abbey style, then an Edwardian ring may be perfect for you!
The 19th century also saw the emergence of several innovations which would influence ring design to this very day such as the invention of the solitaire settingand the introduction of lower karat gold alloys. The discovery of new diamond mines in South Africa in 1870 meant that these precious stones that were once solely reserved for the aristocracy became more widely available.
Caring for an Antique Ring

To ensure that you will be able to pass your ring onto the next generation, it's very important to learn how to care for your antique engagement ring. Given their age, older rings are very delicate and as such so they need far more maintenance than contemporary styles. You will also need to consider the fact that an antique engagement ring is not suitable for everyday wear.


Good luck! We hope this guide gives you everything you need to expertly navigate the world of antique engagement rings to find the perfect piece that you can cherish for a lifetime.
We have a wonderful selection of vintage engagement rings to view at our shop in the Powerscourt Townhouse Centre. Please let us know if you wish to make an appointment.
Vintage Ring Gallery